NEWS RELEASE
SRI Quality System Registrar
300 Northpointe Circle – Suite 304
Seven Fields, PA 16046
Contact:  Jennifer Tomaro at JTomaro@SRIRegistrar.com or 724-934-9000 x660
---
October 12, 2021 (Pittsburgh, PA) – SRI Quality System Registrar is IAOB Certification Body of the Year Gold Finalist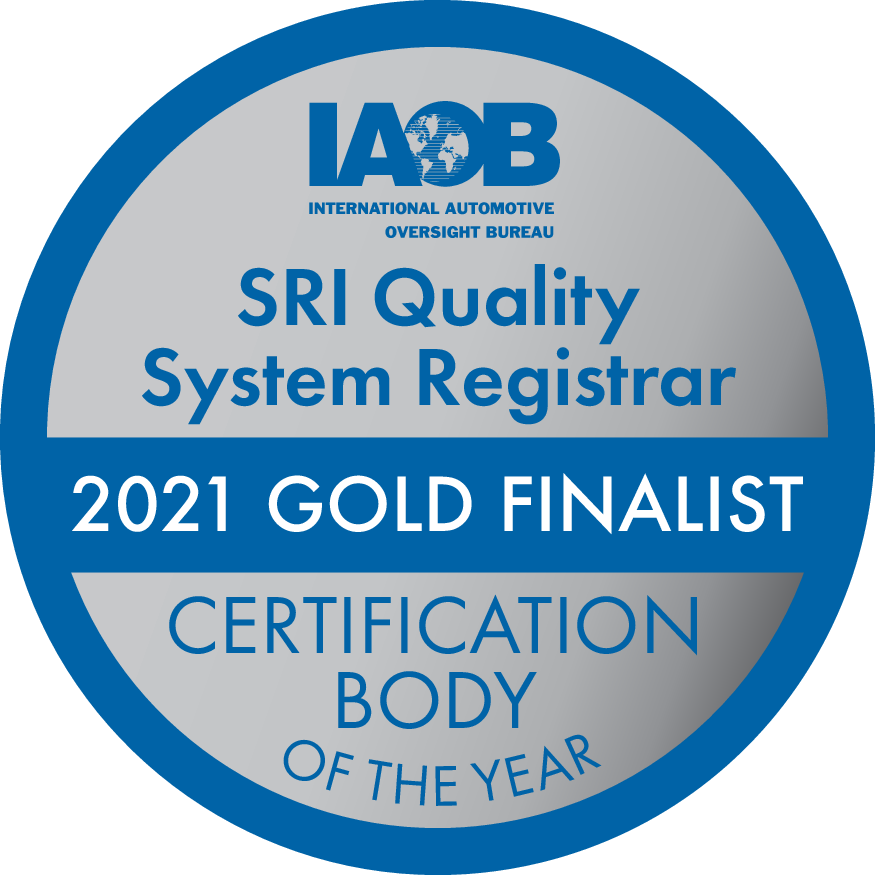 SRI Quality System Registrar (SRI) is proud to announce it is named Gold Finalist in the Certification Body of the Year rankings by the International Automotive Oversight Bureau (IAOB). The announcement was made at the 2021 AIAG Virtual Quality Summit on October 6th by James Bruin, Executive Director of the IAOB.
Certification Body of the Year is the IAOB's official program to recognize its contracted certification bodies that achieve the highest performance standards for the IATF and IAOB. The recognition is given to certification bodies that provide assessment and certification services to the automotive sector-specific IATF 16949:2016 Quality Management System Standard.
"We are proud to highlight our remarkable partners for their hard work and dedication to continual improvement in the processes that are critical to support the automotive scheme and third-party IATF 16949:2016 certification," notes Bruin.
"We are honored to be recognized by the IAOB as a Gold Finalist for the high standard we set for our IATF audit services," adds Christopher Lake, President of SRI, of the recognition.  "We extend our sincerest thank you to the IAOB, our auditors, staff, and clients who continually strive for excellence in the automotive industry. It is this teamwork and partnership that drives performance and the industry to new heights of quality, safety, and performance."
Click here to read the IAOB Release
About IAOB
The International Automotive Oversight Bureau (IAOB) implements and manages the automotive quality standard IATF 16949 registration scheme oversight activities on behalf of the IATF. The IAOB coordinates with the other IATF Oversight Offices to ensure global consistency of the IATF 16949 registration scheme, supports the IATF in the pursuit of global harmonization with other automotive manufacturers, and develops and maintains a central IATF database of strategic information to assist in the management of the registration scheme. For more information visit: www.iaob.org
About SRI
SRI Quality System Registrar (SRI) is an international assessment and certification body headquartered in Seven Fields, PA (metropolitan Pittsburgh area), with engineering and support offices in Pittsburgh, PA (HQ); Portland, OR; Ann Arbor, MI; Dublin, Ireland; London, England; and Tokyo, Japan.  Founded in 1991, SRI is accredited by ANAB, RvA, IATF, AA1000, USGBC (GBCI), WELL (IWBI), ResponsibleSteel™, and Cradle to Cradle Products Innovation Institute (C2CPII) (in process) to assess and assist in conformance to quality, sustainability/ESG, information security, green building and real estate rating systems, and other international standards and frameworks. For more information on how SRI can help you build relationships for success in your supply chain, go to www.SRIRegistrar.com or call 724-934-9000.