SRI Quality System Registrar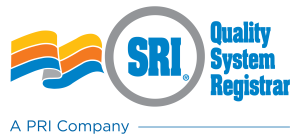 SRI Quality System Registrar (SRI), a PRI Company, is an international assessment and certification body headquartered in Warrendale, PA (metropolitan Pittsburgh area), with support offices around the globe. Founded in 1991, SRI is accredited by ANAB, RvA, IATF, and ResponsibleSteel™ to assess and assist in conformance to quality, sustainability/ESG, information security, and other international standards and frameworks.
Our customers value access to SRI's exclusive "e-VENTS" on-line site, where clients and assessors can retrieve their schedules, audit results, reports, and status of any event.
Acquired by Performance Review Institute (PRI) in 2023
In 2023, SRI was acquired by PRI, a not-for-profit, world-leader in facilitating collaborative supply chain oversight programs, quality management systems approvals and professional development in industries where safety and quality are shared values. With a shared commitment to customer satisfaction and technical excellence, this new relationship will enhance value to their customers. Read more about the acquisition here. 
Founded in 1991 by Dr. Peter B. Lake
As acceptance of international standards has grown, so has SRI. Established in 1991 as Steel Related Industries Quality System Registrar (SRI) to serve suppliers in the steel industry, SRI was one of the first five registrars in the U.S. As a representative on ISO 9000 and 14001 Technical Advisory Groups, a member and past Chair of the Independent Association of Accredited Registrars (IAAR), a representative of the IAAR on the International Automotive Sector Group (IASG), and former Malcolm Baldrige Senior Examiner, founder and CEO Dr. Peter B. Lake put SRI at the forefront of development and acceptance of standards worldwide. SRI now serves the accredited registration needs of business in over 40 major industries across North America, Asia, and Europe.
SRI Brings Value with Purpose and Intention
Each individual at all levels of SRI fully embraces our values and ethics and uses them daily to guide attitudes, actions, and decision-making in our work. We share them below.
Mission
Enable our stakeholders to achieve their goals for a sustainable and successful future.
Vision
Be a respected, full-service leader in sustainability, assurance, and social responsibility by partnering with our stakeholders to improve their business, the environment, and the communities in which we work.
Values
We will do this by…
Being a flexible, responsive team of well-trained, healthy employees
Using creativity and our unique abilities to meet customer needs
Supporting our work with updated technology and culture
Enhancing communication and stakeholder success
Sustainability Goals
To achieve our corporate strategy, mission, and vision, SRI identified material topics, defined sustainability goals, and built targets into our management system to track progress toward these goals. We are committed to:
Providing services with the highest level of integrity and ethical conduct
Maximizing SRI's impact in supporting clients' sustainability goals
Recruiting and retaining the right talent to best meet customer needs
Minimizing our environmental footprint