NEWS RELEASE
SRI Quality System Registrar
300 Northpointe Circle – Suite 304
Seven Fields, PA 16046
Contact:  Jennifer Tomaro at JTomaro@SRIRegistrar.com or 724-934-9000 x660
---
September 5, 2019 (Pittsburgh, PA) – SRI Quality System Registrar recognized as a "Best For The World" B Corp for creating positive impact for workforce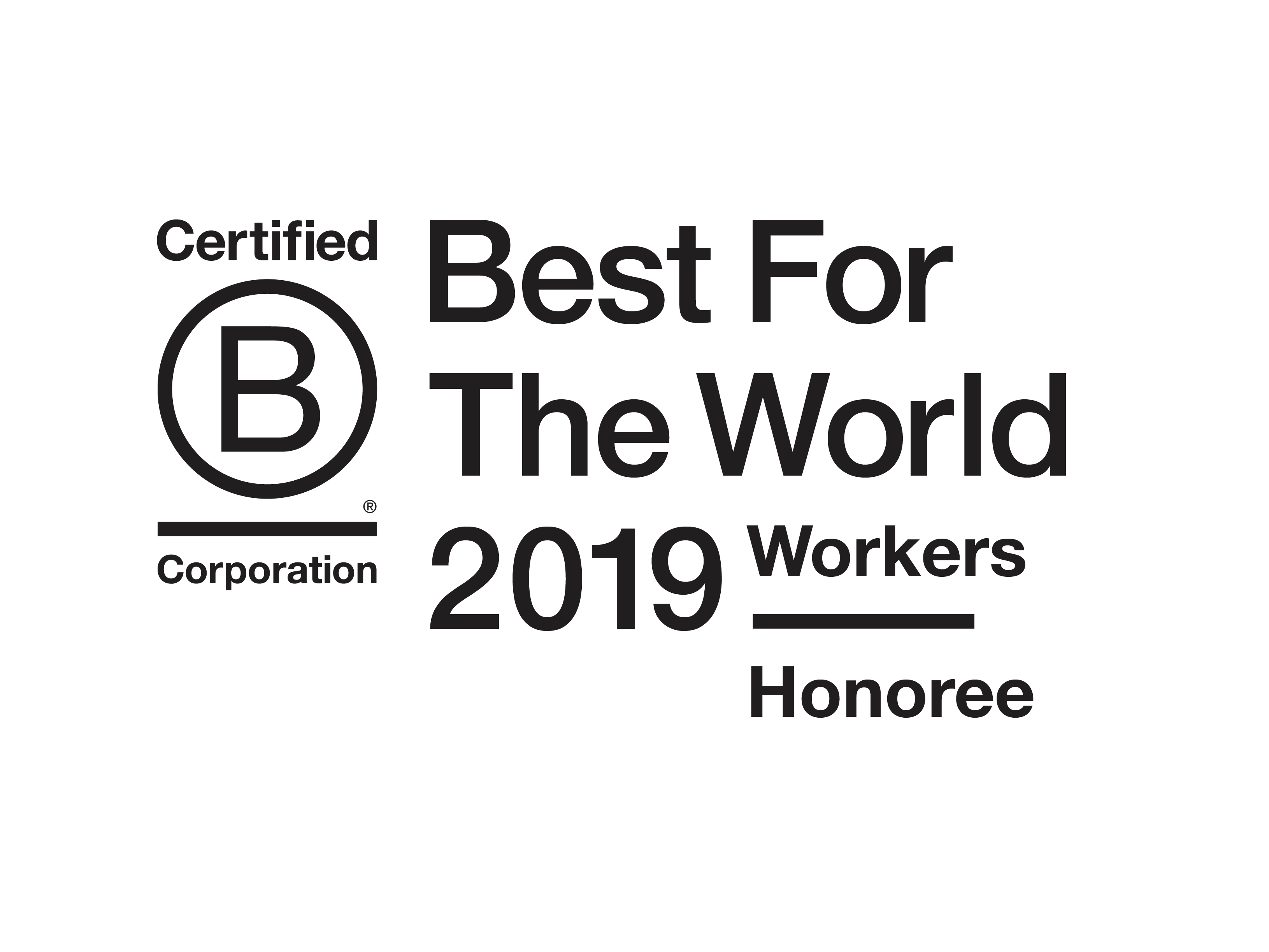 SRI Quality System Registrar (SRI), a Certified B Corporation, has been named a Best For The World honoree in recognition of its relationship with its employees and the significant positive impact it has created over the last year. SRI ranks in the top 10% of all B Corps in the worker impact area of the B Impact Assessment, thanks to its corporate culture, work environment, worker health and safety practices, and other employee-centric policies and practices.
SRI's company mission is to enable its stakeholders to achieve their goals for a sustainable and successful future. Recognizing that employees are an important stakeholder, SRI's culture focuses on providing the tools and support necessary for employees to succeed at work and home.
SRI values the hard work of its employees and understands the challenge of  maintaining a beneficial work-life balance and a healthy lifestyle, which is why SRI consistently makes employee health and wellness a priority. In addition to a generous benefits package, SRI supports a number of wellness initiatives for its employees including, free and healthy snacks, Fitbits for walking journeys, weight loss programs, daily walking, weekly tea-time breaks, and a full-functioning kitchen.  Employees are encouraged daily to participate in our wellness programs by SRI's health and wellness committee members. Other programs SRI offers that have a positive impact on work-life balance and company performance includes the "Bring your Baby to Work" program, flextime, telecommuting, and compressed work weeks.
Beyond life inside the workplace, SRI cares about the community in which its employees work and live. SRI's people aim to make a positive impact on those in the community through awareness of their impact on the environment and pride in working for a local company that people trust.  Employees are offered paid volunteer days to give back to the community. One of the most meaningful programs SRI supports is Victim Outreach Intervention Center (VOICe), which is a non-profit systems change organization that provides free and confidential services to individuals and families who are survivors of domestic violence. It brightens the lives of SRI and its employees to support VOICe throughout the year.
SRI celebrates its employees. From small to big gestures, such as a toast to meeting an important deadline, team lunch for a record month, prizes for office contests, holiday bonuses, and new wellness programs. Celebrating even the smallest victories together creates SRI team spirit and comradery that drive success.
"We're incredibly proud of this year's Best For The World honorees," says Anthea Kelsick, Chief Marketing Officer of B Lab. "These inspiring companies represent the kinds of business models and impact-driven business strategies that are building a new economy—one that is inclusive, regenerative, and delivers value to all stakeholders, not just shareholders. To that end, B Corps like SRI are redefining capitalism and showing that it actually can work for everyone."
Best For The World recognition is administered by B Lab, the global nonprofit that certifies and supports Certified B Corporations, which are for-profit companies dedicated to using business as a force for good. Today there are 3,000 Certified B Corporations across 64 countries and 150 industries, unified by one common goal: to redefine success in business. 1,000 B Corps from 44 countries were named to the 2019 Best For The World lists, including Patagonia, Beautycounter, Dr. Bronner's, TOMS, Seventh Generation, and Greyston Bakery. The 2019 Best For The World honorees are determined based on the verified B Impact Assessments of Certified B Corporations. The full lists are available on https://bcorporation.net/.
About B Lab
B Lab is a nonprofit that serves a global movement of people using business as a force for good. B Lab's initiatives include B Corp Certification, administration of the B Impact Management programs and software, and advocacy for governance structures like the benefit corporation. B Lab's vision is of an inclusive and sustainable economy that creates a shared prosperity for all. To date, there are 3,000 Certified B Corps in over 150 industries and 64 countries, and over 50,000 companies use the B Impact Assessment. For more information, visit https://bcorporation.net/.
About SRI
SRI Quality System Registrar, an international company headquartered in Seven Fields, PA, with offices in Pittsburgh, PA, Portland, OR, Ann Arbor, MI, Dublin, Ireland, and Tokyo, Japan, and its 3R Sustainability and iQ Training subsidiaries, are a management system certification body, global corporate responsibility (CSR/ESG) consultancy, and training services corporation, with services accredited by ANAB, RvA, IATF, FSSC, AA1000, and the USGBC (GBCI) to assess and assist in conformance to quality, environmental, health and safety, information security, social responsibility, LEED rating systems, and other international standards.  For more information on how SRI can help you build relationships for success in your supply chain, go to www.SRIRegistrar.com or call 724-934-9000.
###