NEWS RELEASE
SRI Quality System Registrar
300 Northpointe Circle – Suite 304
Seven Fields, PA 16046
Contact:  Jennifer Tomaro at JTomaro@SRIRegistrar.com or 724-934-9000 x660
---
April 5, 2022 (Pittsburgh, PA) –

SRI Accredited by ANAB to Provide ISO 28000:2007 Certification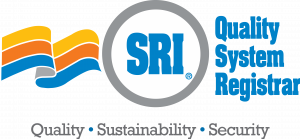 SRI Quality System Registrar (SRI) is proud to announce it has been accredited by ANAB to provide certification services to ISO 28000:2007, the Supply Chain Security Management System standard. By holistically and systematically addressing supply chain security with a management system approach, using ISO 28000:2007, organizations directly impact the safety, reliability, and resilience of their supply chain and business.
ISO 28000 provides a framework for organizations to communicate expectations and requirements to their suppliers and customers. The standard creates and aligns security processes and controls, helps ensure compliance with statutory and regulatory obligations, provides transparency with investors, and aligns with ESG reporting frameworks across the entire supply chain in which they operate.
"Goods and services move about the globe in ever increasingly complex supply chains, and it is in every stakeholder's interest that those supply chains be secure" remarks SRI President, Christopher Lake. "Since its inception, SRI has long been a leader in helping assure resilience and reliability, and ISO 28000 is another tool for SRI and our clients to be trusted partners in their supply chains."
You can view SRI's Accreditation Status on the ANAB CB Directory.
About ANAB
The ANSI National Accreditation Board (ANAB) is the largest multi-disciplinary accreditation body in the western hemisphere, with more than 2,500 organizations accredited in approximately 80 countries. ANAB was the first management systems accreditation body in the United States, with management systems accreditation beginning in 1989. ANAB accreditation of third-party certification bodies provides credibility and confidence for those who rely on certification. To learn more about ANAB visit: https://anab.ansi.org/
About ISO
ISO (International Organization for Standardization) is the world's largest developer and publisher of International Standards. ISO is a network of national standards bodies of 165 countries, with a Central Secretariat in Geneva, Switzerland. To learn more about ISO visit: https://www.iso.org/home.html
About SRI Quality System Registrar
SRI Quality System Registrar (SRI) is an international assessment body headquartered in Seven Fields, PA, with offices in Pittsburgh, PA (HQ); Portland, OR; Ann Arbor, MI; Dublin, Ireland; London, England; and Tokyo, Japan. Founded in 1991, SRI is accredited by ANAB, RvA, IATF, AA1000, USGBC (GBCI), WELL (IWBI), and ResponsibleSteel™ to assess and assist in conformance to quality, sustainability/ESG, information security, green building and real estate rating systems, and other international standards and frameworks. Independent, 3rd party data validation and evaluations play a critical role in communicating to stakeholders that certain criteria and performance expectations have been met. For more information on how SRI can help you build relationships for success in your supply chain, go to www.SRIRegistrar.com or call 724-934-9000.