History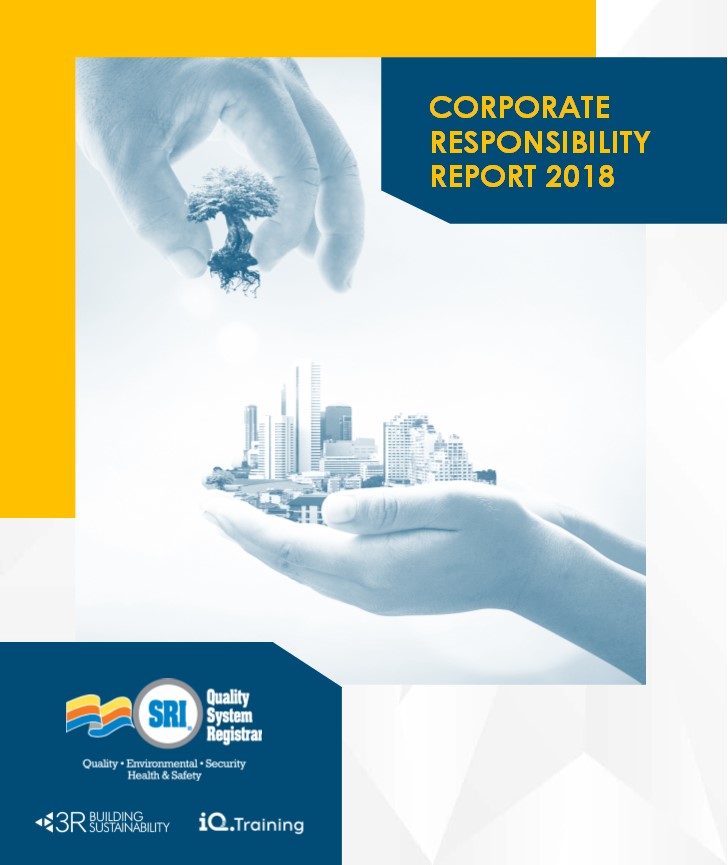 SRI Quality System Registrar, founded in 1991, has served companies' certification needs in numerous major industries across North America, Asia, and Europe. In 1996, SRI began offering environmental and Corporate Social Responsibility (CSR) services with the ISO14001 standard, and have since expanded to include health and safety, energy management, social accountability and assurance, among others. By 2006, SRI made a commitment to developing its own CSR initiatives with employee-focused programs and added Green Building Certification to its services in 2008. With the growth in the sustainability market, 3R Sustainability was launched as a subsidiary of SRI in 2014 to meet the growing call for sustainability and help its clients meet their CSR goals.
Setting up shop in Pittsburgh's historic Strip District neighborhood, in what was once the bottling plant of the Phoenix Brewing Company (c. 1865), 3R began "walking the walk." Renovating a floor of a landmark building to preserve its historic significance and achieve LEED Gold certification was very exciting, especially in a neighborhood that is transitioning from its industrial past into a vital part of Pittsburgh's expansion of green initiatives and sustainability.
Walking the Walk
Operating out of the LEED Gold certified space was just a stepping stone for the 3R team. To build sustainability into the corporate culture, 3R designed a sustainability management system for SRI, starting first by engaging SRI stakeholders and leadership to define the most material impacts to the business, and using it to establish the company's sustainability goals. 3R defined the appropriate metrics, and SRI leaders set bold targets to drive change in the operations. The broad effort resulted in an action plan with a prioritized set of projects, from updated policies and procedures to new tools for tracking and reporting. Perhaps the most important change was instituting management reviews of the sustainability goals to track progress and identify areas for continual improvement.
Often functioning as third-party verifiers themselves, SRI and 3R decided it was important to pursue a third-party assessment in the form of a B-Corp Certification to demonstrate their commitment to sustainability and corporate responsibility. Assessing the overall positive impact of a company, B-Corp Certified corporations must achieve a minimum score on the rigorous B Impact Assessment. This assessment includes a publicly available report on the company's impact on its workers, customers, community, and environment.
Publishing a Corporate Social Responsibility Report was the natural next step in accountability, and it provided a way to communicate progress toward sustainability goals to employees, customers, and other stakeholders. To further demonstrate its commitment to transparency, SRI also joined the International Living Future Institute's JUST™ Program and qualified for the JUST label through effective internal policies in key JUST categories such as diversity, equity, safety, employee benefit, local benefit and community stewardship.
3R Sustainability was awarded first place in the 2018 Sustainable Pittsburgh Challenge in the Micro Business Division. More than 100 organizations throughout southwestern Pennsylvania participated in the 13-month Sustainable Pittsburgh Challenge and were recognized at the Awards Celebration at PNC Park on March 21st. 3R received the most points in its category by taking the aforementioned noteworthy actions and more. Additional actions included conducting a waste audit, documenting the office composting program and implementing a sustainable purchasing policy.
SRI has been named a PA Best Place to Work since 2015, and in September 2019, SRI was named a Best For The World 2019 Honoree in the workers category. This means that out of all B Corps, SRI scored in the top 10% on the B Impact Assessment for company-offered employee programs and employee treatment and satisfaction. And while the recognition from awards is always exciting, the programs and policies that SRI and 3R implement are simply "good business". A company that operates with the belief that employees are its greatest asset creates a successful, high-functioning culture.
Gaining Buy-In
Corporate Social Responsibility can have many different definitions for different companies in different locations. For SRI and 3R, recruiting and retaining the right talent is critical. In addition to a "top-led" approach to sustainability, the "bottom-up" is just as important, if not more. This is why SRI and 3R choose to operate using the "Sustainability Sandwich" approach. While senior leadership is critical to the success of any sustainability program, buy-in from all levels of employees is pertinent for a company to make small changes which provoke large impacts. For example, signing on to the UN Global Compact and committing to its 10 principles of sustainable and equitable business practices was an executive decision. However, abiding by these principles and building them into the company's operations requires buy-in from all employees, which is one reason why 3R hosts the Sustainability Team, made up of members from different parts of the business to identify and incorporate changes into the business throughout the year.
What's Next
As a company that truly walks the walk, 3R helps companies improve the sustainability of their operations, select the relevant CSR standard and/or certification for them, and best report on their progress through customer questionnaires, supply chain assessments (e.g. EcoVadis, DJSI and others), and GRI reports. Aware that the definition of what it means to be sustainable is ever changing, SRI and 3R are committed to continual improvement for their internal operations and for helping companies achieve their own sustainability goals.